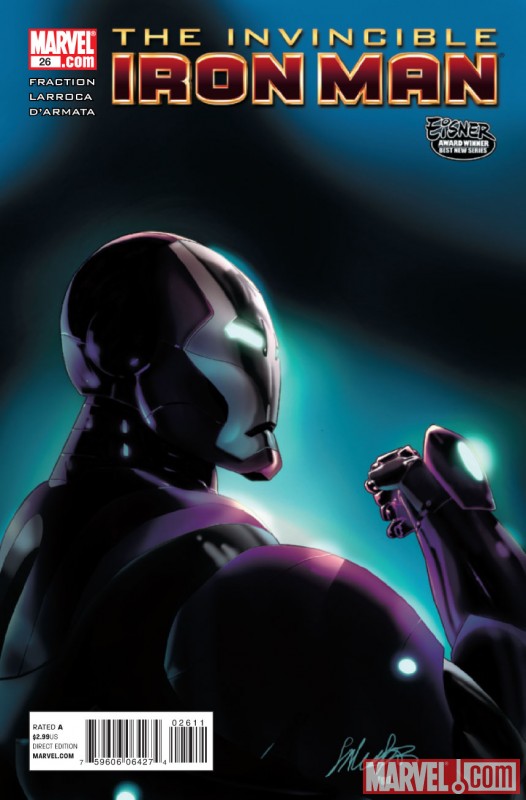 In Invincible Iron Man #26, Matt Fraction continues to examine Tony Stark while he rebuilds his life, company, and reputation. This is more of a filler issue. Nothing earth shattering happens; there aren't any great revelations, but it still is a wonderful issue. We get to learn a lot about Tony's current state of mind and we get a peak at what he will be facing in the future.
Matt Fraction has placed Iron Man in a really interesting spot mentally. He has no recollection of everything he has done, he only knows what he has been told and has read. But still, he understands why he did what he did. There is a great scene where he is talking to Maria Hill. He hands her a jump drive with all the new Iron Man schematics and the kill switch, for Steve Roger's eyes only. In the ensuing conversation, we see how much Tony still respects and needs Cap. He still thinks what he did was right, but he understands that Steve is the only one who would know when enough was enough. This is such a great scene; I commend Fraction for allowing us to see Tony at his weakest.
The other side of this issue doesn't fare quite as well. Justin Hammer's daughter and granddaughter are still running around behind the scenes trying to fill the vacuum Tony left when he pulled Stark Industries out of military contracts. Their ultimate goal is to squash Tony's new vision for Stark before he can even get it off the ground. There is a sense of impending doom, but I just can't take the Hammers seriously. I feel like they need handle bar mustaches and a black cape. I really hope Fraction can solidify them as a credible threat soon.
I have really been digging Fraction's run on Invincible Iron Man. Though this issue may not shine as one of his greatest, it is certainly a great window into the character of Tony Stark. We will just have to wait and see if the antagonists that Fraction has presented us really pan out.